Sumikko Gurashi Tenori Plush Toy 27-piece set (full set) Japan NEW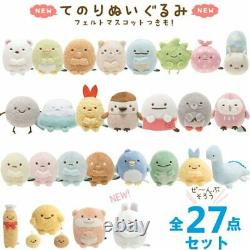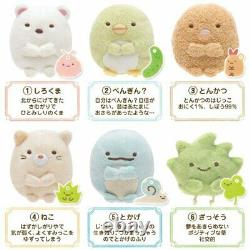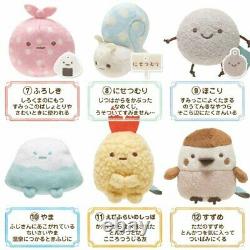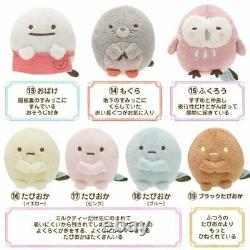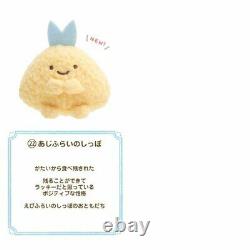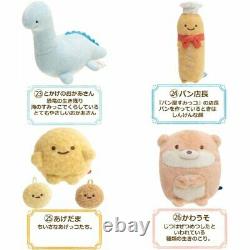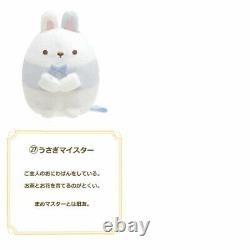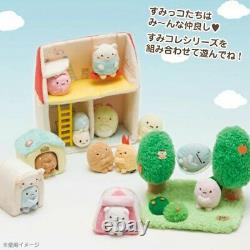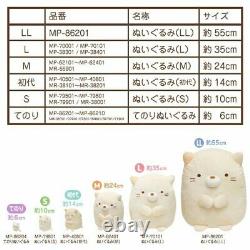 It is a stuffed animal of the popular character "Sumikko Gurashi"? The small limbs and chunky form are very cute?
Let's sit down in the room and be healed with Sumikko Gurashi! Try arranging them side by side in the corner, or collect them and play with them?
It would be nice to get in the car and drive together! Made of soft bore, it feels fluffy and fluffy... You can play with the attached felt mascot?
Occasionally, give me a gyu? I can't have a mascot for rough, furoshiki, nisetsumuri, and dust... H60 × W50 × D50mm. H60 x W50 x D50 mm. H60 x W50 x D50mm.
H60 x W50 x D60mm. H50 x W60 x D30mm. H55 x W55 x D50mm. H60 × W35 × D60mm.
H55 x W55 x D40 mm. H40 × W60 × D45mm.
Fried shrimp tail MR07201 Approx. H55 × W50 × D50mm. H50 x W50 x D45mm. H50 x W45 x D50mm.
H55 x W50 x D40mm. H50 x W45 x D45mm. H50 x W45 x D40 mm. H50 x W45 x D40mm.
H55 x W60 x D50mm. Aji Fry's Tail MY16501 Approx. H65 x W60 x D45mm. H85 x W70 x D110mm. H90 × W30 × D25mm.
H40 x W45 x D30 mm. H55 x W45 x D50mm. A polar bear with a glimpse of a sword that has come from the north. When I'm drinking warm tea in Sumikko, I feel calm.
In the old days, it seemed like there was a rush.. I've been rubbed because it's oily.. In fact, it's a dinosaur. Pretend to be a lizard because it gets caught.
I'm open to Nisetsumuri. Someday, I'll have my longing old lady make a bouquet!
A positive loss with the dream. It has a polar bear. It is used by a bastard. In fact, it's a slug wearing a slug.
I'm sorry to lie.. A small mountain that Fuji-san longs for.
Appearing in a hot spring, he impersonates Fuji-san. I've been left behind... A friend who is heart-warming with Donkatsu. Go to the pork cutlet and peck.
I live in the attic. I don't want to be scared, so I'm quiet. I lived in the underground corner. It wasn't until I was worried that the top was refreshing that I went out to the ground. It's nocturnal, but I'm waking up in the daytime, trying my best to match the sparrows I'm friends with. Rumor has it that when you wake up once in a while, you call for good fortune. Only milk tea was caught and squeezed..
More twist than other tapioca. A friend I met when the polar bear was in the north. He came from the south and traveled all over the world. A real lizard living in the forest. A carefree personality who doesn't care about the details.
I was left uneaten because it was hard. A positive personality that I feel lucky to be able to remain.
I live in the corner of the sea. I used to live with lizards, but now I'm living apart for some reason. The rumored Smithy who appears in Lake Sumitsu is a lizard mother. The manager of "Bakery Sumikko". When I'm making bread, I have a sly face.
He is a friend of Mame Master and likes to talk. He started "Bakery Sumikko" to convey the deliciousness of bread. He is taking a milk bath so that he won't crack.
In fact, it is a kind of living sword that is said to be extinct. I'm grabbed, so I'm moving around. But it's really curiosity. I'm wearing my husband's oni.
It's best to grow tea and flowers. Mame Master is an old friend.
Thank you for looking at my items. We guarantee that your issue will be solved quickly.
This item is in the category "Collectibles\Animation Art & Merchandise\Animation Merchandise\Figures & Statues". The seller is "otouta_86" and is located in this country: JP.
This item can be shipped worldwide.
Country/Region of Manufacture: Japan
Movie: Sumikko Gurashi
Material: Plush
Type: Tenori Plush Toy
TV Show: Sumikko Gurashi
MPN: Dose not apply
Brand: San-X
Franchise: Sumikko Gurashi
UPC: 4974413672597