Catch Tiniping's Official Stuffed Doll Series 28cm, / Korean Toy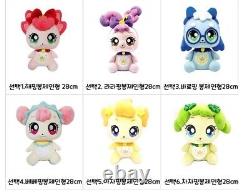 Tiniping's official stuffed doll series 28cm, Korea Toy. DOLL : Happy Ping, Lalaping, Baro Ping, Bebe Ping, Azaping, Chachaping. You can return the product for up to 14 days from the date you receive it. In order to return the order, the item must not be opened and used. Please feel free to contact me if you have any questions.
I will send you a reply within 24 hours.